The Big List of Things That Suck - No.35 - Gold Mining
Gold is mined with super-toxic cyanide; its mining produces a huge amount of waste. According to the No Dirty Gold campaign, in the two-week period leading up to Valentine's Day in 2005, American sales of gold jewelry caused 34 million metric tons of waste. Way to say I love you, people.
Where to find it: On your finger.
Suck less: Recycled metals are now relatively easy for jewelry designers to access—at a comparable price to new metals. Look for designers like Melissa Joy Manning who consistently work in recycled metals.

- EcoStiletto.com
The other day I signed on to Etsy.com and their homepage had a feature on unique engagement rings. A lot of of my friends are getting engaged and don't get be wrong, I think that their rings are beautiful but, they are all starting to look the same. The rings in this article were all from sellers on Etsy and some of them were absolutely stunning and right up my alley.
My favorite one was and oxidized silver ring with a Herkimer diamond.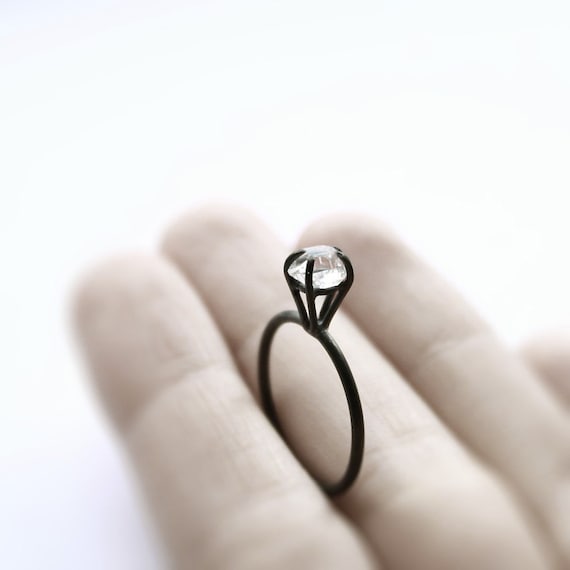 In my mind, this ring is absolutely gorgeous. There were plenty of other unique rings like this for sale on Etsy all by different sellers. 
I have no problem against gold and I do own a bit myself that has been passed down to me from previous generations in my family. Gold mining sucks but at the same time, I think it could be a little lower down on this list. I just know that if a man was ever planning on giving me a ring, gold or even white gold ain't going to cut it for me. Go with something unique like this. It's cheaper, prettier (in my opinion), and no one else will have anything like it. I also… pretty much just wanted an excuse to tell everyone how much I like this ring. It's also a lot more natural then the $1,000-$2,000 rings at Kay Jewelers.
How much does it cost? $104. K I'm done.
(Source: ecostiletto.com)